4 Steps to Create your Digital Marketing Plan 🔎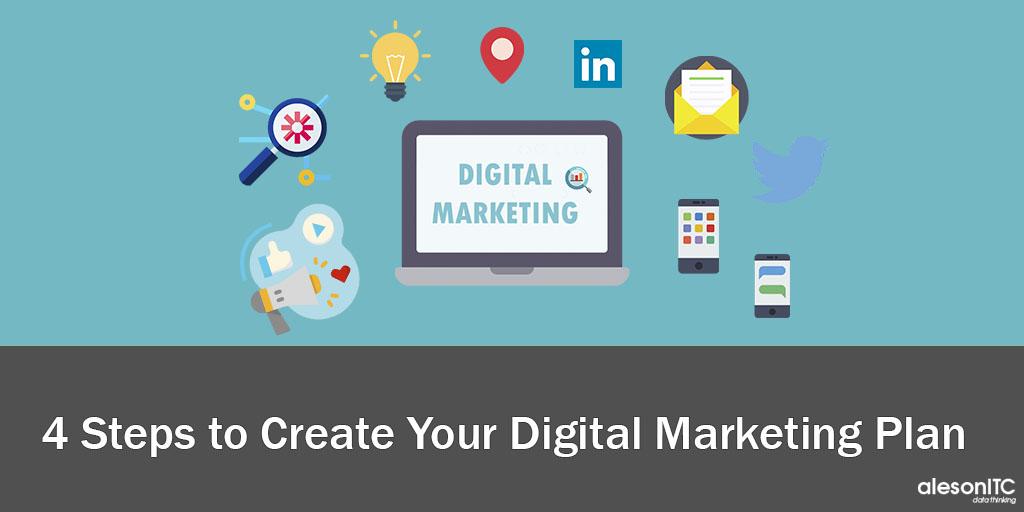 Marketing Post! In today's post, I'm going to tell you how to make a Digital Marketing Plan in an Express way.
As you know, every company must have set goals both short and long term, which must be pursued throughout the year to achieve them. And How are these goals achieved? In addition to increasing production, we must have a set of guidelines established to reach them. These guidelines are embodied in the Marketing Plan.
As we are booming in the technology sector, our Marketing Plan will be Digital, since paper formats and outdoor advertising have become increasingly obsolete.
Before we begin, we must ask ourselves these four key questions, which will help us know what the objectives we want to achieve are:
¿Where are we now?
¿Where do we want to arrive?
¿How are we going to get there?
¿In wich moment?
When we have these points clear, we will be ready to start!
We will divide the plan into four specific points:
1. ENVIRONMENT ANALYSIS
The first step to start our Marketing Plan is to analyze the current situation in which the company is, especially in the digital part. This point is made up of three types of analysis that are: Internal, External and SWOT analysis.
Internal Analysis: in this case we must analyze our website to see if it is sufficiently optimized, as well as the Blog, the SEO of the entire web, check if we have updated social networks, if our email marketing works and finally, analyze what kind of Traffic receives our website.
External Analysis: in this type of analysis you have to thoroughly investigate the market, analyze which are our main competitors, what are the trends of the sector and above all and very important, we must be clear who will be our Buyer Person, that is, to Who do we want to sell our products or services?
SWOT analysis: it 's the best tool to know what are the real situation of the company. This type of analysis will allow us to know what are the Strengths and Weaknesses at the internal level of the company, as well as the Opportunities and Threats that we face externally.
Strengths: strengths, such as extensive experience in the sector, lower prices ..
Weaknesses: weak points, low brand awareness, lack of communication …
Opportunities: trends that we can take advantage of.
Threats: environment, competition, financial situation … we cannot control them, but we can detect them to face them.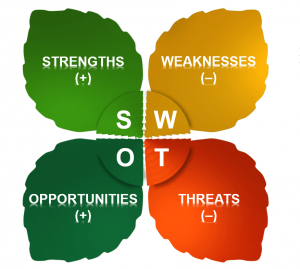 2. DEFINITION OF OBJECTIVES
One of the most important steps in our plan has to be Define the Objectives, as well as establish the period of time we have to meet them.
The objectives will depend a lot on the digital, economic and human resources situation available to the company.
In order to effectively measure the Return on Investment (ROI) of our strategies, it is necessary that the objectives we set are SMART objectives, that is, they are:
Specific:What do you want to achieve?
Measurable: All Objectives must be measurable, in order to control the return on investment (ROI).
Attainable: Are the objectives consistent with the situation of the company?
Relevant: Why is the company interested in your customers?
Timely:When will this goal be achieved?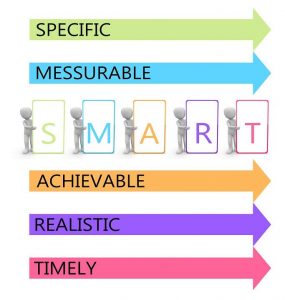 3. ACTION PLAN: DIGITAL MARKETING STRATEGY
In the Digital Marketing Strategy we will define the way forward to carry out these objectives.
At this point, we will set the actions to be taken to reach our goals
I leave some examples of digital strategies to be a Top in the digital world:
SEO strategy: to improve our web positioning and thus attract more traffic.
Content Strategy: a quality content, together with appropriate keywords will make our site to be in the top positions in the search engines, since users will search us for the words that we have interspersed in our content. In my previous post, I leave some tools to find the keywords that best suit your web content: 5 Keyword Tools to be a Number 1 in Google.
Social Media Strategy: Currently, all campaigns carried out on social networks have a great impact on Internet users and will help us to publicize our company or brand. In the IT sector, the social networks that are most managed are first, Linkedin and secondly Twitter. A good post on these networks, along with a promotion or a raffle, will attract potential leads to your company.
Email Marketing Strategy: with a good database, we will plan the launch of various informative Newsletter about our products, services and promotions. We can expand this database of clients or potential clients by establishing subscription forms on our website. Contacts can also be achieved by attending various events by always carrying the contact form.
Google Adwords strategy: it is possible to pay for advertising on Google, in the case of Google Adwords, it will be paid for every click we get in our ad. It is a very simple way to advertise online and it is not necessary that the budget is excessively high.
4. MONITORING AND CONTROL
In the Digital Marketing Strategy we will define the way forward to carry out these objectives.
For this analysis, we will focus on KPIs or Key Performance Indicators. And what are the KPIs? These are indicators that will allow us to measure, control and establish the results of the plan. For example: web visits, bounce rate, number of likes on Linkedin, number of impressions, percentage of CTR, keyword positioning …
For the measurement of KPIs it is advisable to make reports of each strategy, in this way, its interpretation will be much easier.
As the campaign progresses, thanks to the analysis of these indicators, we can modify it so that it adapts better to market demand.
And here the post today, now you have the keys to start your Digital Communication Campaign.
If you want to become a Master in Digital Marketing, do not hesitate to check my latest posts. 😉

Marketing and Communications Specialist. International Trade, Business Management, SEO, PPC.