Getting Started with Azure Stack HCI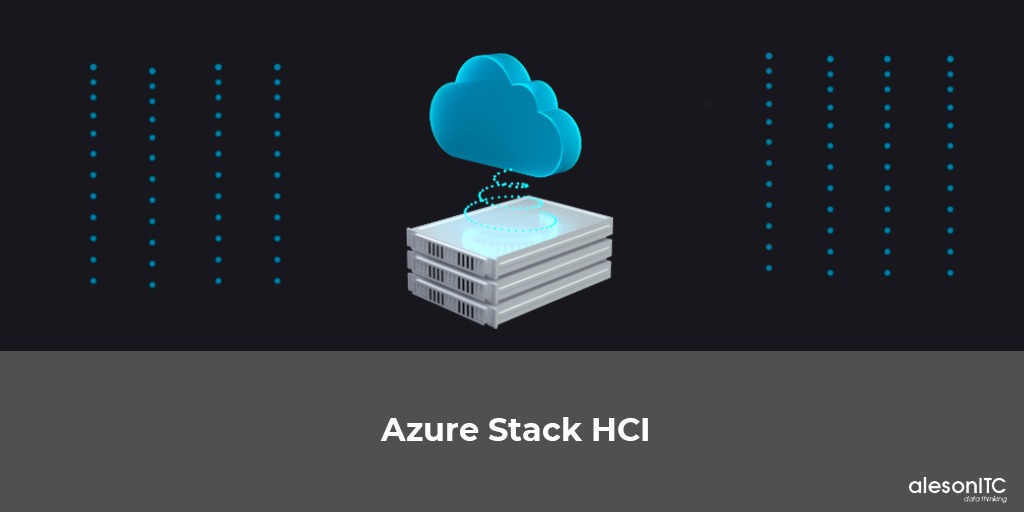 Customers are increasingly using the Cloud for their companies, but they also want to maintain local environments due to business problems or greater connectivity.
The service we are going to talk about today, Azure Stack HCI, it's interesting when there is a lot of Microsoft technology in a company and it would help us reduce the complexity of the infrastructures.
Before starting to explain this service, it's necessary that we know the term Hyperconvergence.

What is Hyperconvergence?
Hyperconvergence allows us to have our data centers on premises, to gain latency compared to a data center in the cloud. But at the same time we will be connected to Azure through Windows Admin Center to allow us to have the largest workloads in the cloud, such as backups, configure Azure Disaster Recovery …
And the way Microsoft brings hyperconvergence to us is through Azure Stack HCI.
What is Azure Stack HCI?
It's an operating system with a hyperconverged infrastructure that is delivered as an Azure service. Added to this are security, performance, VM deployment, and the ability to manage other Azure services.
This solution allows us to have on-premise Azure features such as backups, Azure Disaster recovery and other improvements that will come soon …
To start we will need an environment with a minimum of four servers, each of them fulfills a function:

– Server with Windows Server Datacenter 2019 that will act as Domain Controller

– Server with Windows Server Datacenter 2019 where we will have installed the Windows Admin Center, which will manage the cluster.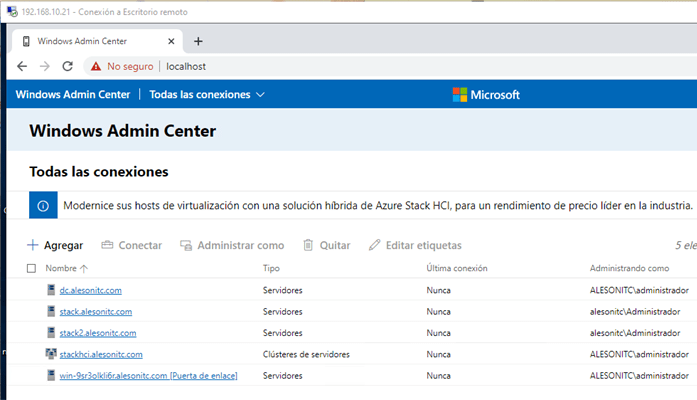 This image shows what the Windows Admin Center is like with our respective servers added and with the cluster created.
– Server 1 with Azure Stack HCI operating system, will be part of the cluster.
– Server 2 with Azure Stack HCI operating system, will be part of the cluster.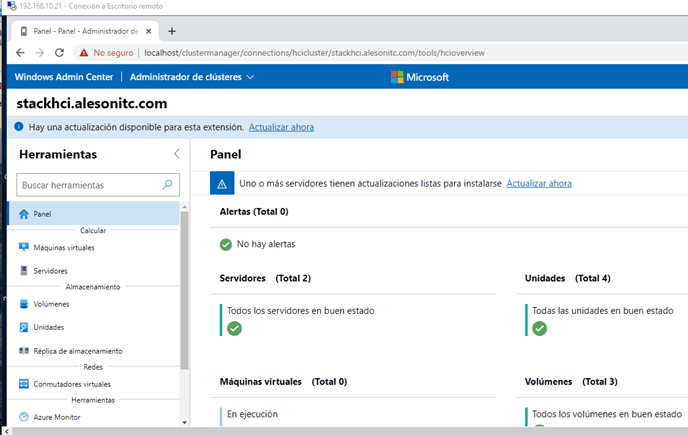 In this image we show you the cluster administration part within Admin Center
The cluster can be composed of 2 to 16 nodes and our infrastructure can have several clusters
We have tested this technology, and our point of view is that in a few months, this solution will be much more complete, since it is currently still in preview.

If you want more information you can consult the official Microsoft page:

Discover here the hardware options verified by Microsoft for this new implementation:
We hope you found it useful and interesting, thank you very much for your time. And stay tuned for our next posts!

If you want us to help your business or company, consult our Azure for Business page or call us at +34 962 681 242

Analyst. Iniciándome en el mundo de los Datos y el Cloud de Microsoft.